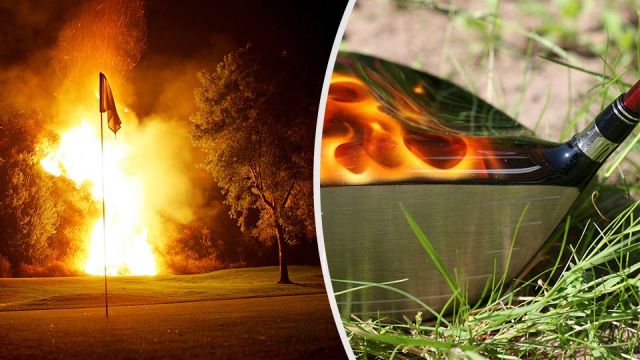 In Oregon, a group of golfers was caught "playing as it lies" in front of a massive wildfire burning behind them. This photo, courtesy of Beacon Rock Golf Course, shows three gentlemen finishing a round of golf seemingly oblivious to the fiery array of burning woods behind them. Now that's dedication.
Golfers play as wildlife rages on

These photos of golfers playing on as an Oregon wildfire rages nearby are absolutely nuts https://t.co/NuXYOfhvCJ pic.twitter.com/fc6GPOOyYk

— Doc (@mch7576) September 7, 2017
The wildfire, reportedly started by a teenager, has been burning through the area for several days. Perhaps a reason it is not getting a lot of media attention is due to Hurricane Irma.
Heartbreak in Oregon: Wildfire scars beloved Columbia Gorge: https://t.co/k7ZNqTd09u pic.twitter.com/IOTreH6uhO

— The Seattle Times (@seattletimes) September 6, 2017
What would you do — finish your round of golf or head for the nearest body of water? Let us know in the comments! 
— Peter Amirata