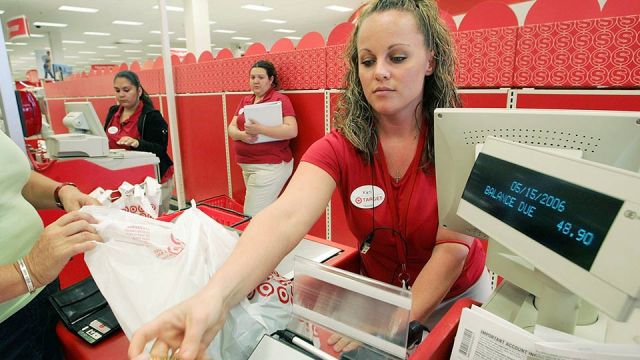 On Monday, the United State's second-largest discount store retailer Target announced they would be raising their minimum wage from $10 an hour to $11.
Currently, Target employs more than 323,000 people and will be hiring an additional 100,000 for the busy holiday season, so this wage increase will also apply to them.
The decision comes less than three months after Minneapolis City Council approved to raise the minimum wage on large companies to at least $15 an hour by 2022.
In January 2016, fierce rival Walmart increased their minimum wage to $10, so many view this decision by Target to be a counter punch in the ongoing "wage war".
Target raises minimum hourly wage to $11, pledges $15 by end of 2020 https://t.co/TZ1iS8UZ2e pic.twitter.com/DQc4RhZzVb
— Reuters Top News (@Reuters) September 25, 2017
The retail industry is the largest private-sector employer in the United States, but recently competition for staff has gotten far more competitive as the job market improves.
Competitors like Costco have also increased wages and some states, like Massachusetts and Washington, have already established $11 an hour as the minimum wage for all workers.
This could be a continuing trend throughout the United States, as the "Fight for Fifteen" labor movement is gaining support, especially in major cities.
The move has sparked both criticism and support on Twitter-
High minimum wage can happen but not overnight. Jumping 5 whole dollars overnight can cause profit loss target can't afford.
— Kyle (@soltkyle) September 25, 2017
Target announced plans to immediately raise its minimum wage to $11 and to $15 by 2020! As if we didn't need another reason to shop there
— Adam (@itsAdamJSmith) September 25, 2017
Historically, Walmart has touted their wage increases boastfully in earnings conference calls to spread this news, and now Target is following suit.
Target CEO Brian Cornell reported directly to the media that they company plans to be "very definitive" and "declarative" about their commitment to employees.
"Target has always offered market-competitive wages to our team members," Cornell said in a statement. "With this latest commitment, we'll be providing even more meaningful pay, as well as the tools, training, and support … that set Target apart."
As it pertains to the minimum wage in general, Democrats in the Senate recently introduced a $15 minimum wage bill.
In the past, President Trump has flirted with an idea of raising the federal base pay to $10 an hour, while some libertarian candidates have proposed completely banning the minimum wage in general.
What are your thoughts on this situation? Should the minimum wage be raised or lowered in general?
–– Peter Amirata