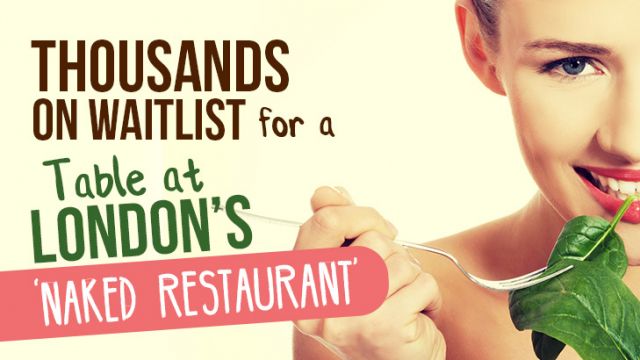 Pesticide-free, preservative-free — clothes free? In a move toward a more natural way of living and dining, a new restaurant in London encourages patrons to shed their clothes, their inhibitions and to disconnect from technology.
Three words – disposable seat covers
No plastic, metal, electricity or gas. The Bunyadi, named after a Hindi word meaning "natural," takes "natural living" to a whole new level. The first naked restaurant to hit London operates without modern-day food prep conveniences, serving food on handmade clay dishes accompanied by edible cutlery.
There's two sections, one for nudist dining and another for those who prefer to remain clothed. Servers are completely nude but those preparing the food are not — for obvious reasons.
Guests are taken into a private room where they can strip down and put on a robe, which they can use to travel comfortably through the restaurant and then to their seat. The furniture is raw and wooden and the dining room is lit only by candlelight.
More to this than meets the eye
It's really not just about being naked. Heck, you could do that in your own living room — as I'm sure some do. No, there is more to this than meets the eye. It's about letting go: No texting through dinner, no technology drawing you away from an intimate conversation. And truthfully, we need more intimate conversations — sans distractions — wouldn't you say? 
Guests are asked to turn off their phones and leave them behind, not only as a means to protect the privacy of guests, I imagine, but also for the purpose of allowing patrons to disconnect from the rest of the world.
"Liberation from technology," says Sebastian Lyall, the brains behind The Bunyadi, during an interview. "We all get bothered by people on their phones while eating. So you can't bring any kind of technology in."
"While I'd just met the people I shared a nude lunch with, I feel I can express myself more frankly than if I were at a regular restaurant," says Chloe Pantazi of Business Insider after experiencing The Bunyadi for herself. "But I'm not sure if this is because I'm naked or because I don't have my iPhone."
It may not be your cup of tea, but the restaurant, which only serves 42 people at a time, has a waiting list of more than 44,000. For a mere £69 (roughly $100) you too can break free from technology — and from your clothes — and enjoy an organic feast.
But here's the question: Would you dare to bare it all for a great meal and a chance to disconnect?
—Katherine Marko