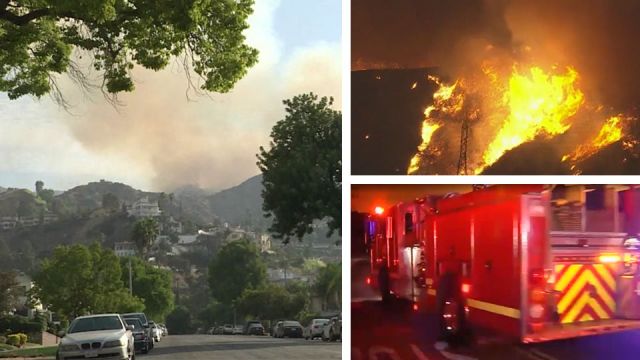 Nearly 8,000 Californian households have been forced to flee their homes since Monday, as a massive fire continues to rip through the south of the state.
The fire began late Monday in Santa Paula, before tearing its way through more than 30,000 acres in a matter of hours, according to local officials.
#ThomasFire is now 26,000 acres with 0% perimeter containment. Fire & Sheriff resources continue with impact area evacuations and structure protection operations. @VCFD #VCFD pic.twitter.com/qbdOJwPzBu

— VCFD PIO (@VCFD_PIO) December 5, 2017
What started as a small blaze quickly swept across the hills around Santa Paula, turning the sky orange and leaving panicked residents rushing to pack cars with personal belongings to evacuate.
10,000 acres in 4 hours, absolutely incredible. #ThomasFire

— Bernie Deyo (@EPN473) 5 December 2017
The fire is moving very quickly with the wind. #ThomasFire pic.twitter.com/PyiORCewEi

— Marcus Yam (@yamphoto) 5 December 2017
By early Tuesday, the fire was searing through nearly an acre every second.
#Breaking #ThomasFire 2500 Acres + Rapid rate of spread, strong winds out of the East pushing the fire West, North of #SantaPaula #SkyMap7 @ABC7 #Air7HD pic.twitter.com/CCEP79WKJs

— J.T. Alpaugh (@ABC7JT) 5 December 2017
BREAKING VIDEO: #ThomasFire has reached residential areas, residents are asked to evacuate immediately. pic.twitter.com/JJG3IKjr8Q

— The Anon Journal (@TheAnonJournal) 5 December 2017
"The fire growth is just absolutely exponential," Ventura County Fire Chief Mark Lorenzen said.
Los Angeles Times photographer @yamphoto is on the scene in #Ventura. #ThomasFire has poured into the city. Hot embers are being pushed into dry foliage around residential housing by blazing winds.

1: https://t.co/87jk27scN8
2: https://t.co/iXuDKXtyLx
3: https://t.co/0XrTpB9Ho9 pic.twitter.com/Lclrlfmqwj

— Mr Spooky Ghost (@Mr_Ghostly) 5 December 2017
The fire's lightning speed was attributed to strong winds, with the flames lapping at the outskirts of the Pacific city of Ventura.
Please pray for those hurt by the #ThomasFire. pic.twitter.com/UkRfRYzmPN

— 🍁 (@EUniversee) 5 December 2017
"We got my kids out first," evacuee Melissa Grisales told ABC 7 in Los Angeles.
#ThomasFire flew directly over this huge fire- big turbulence pic.twitter.com/8Yd2lAd77Y

— Adam Hirsch (@ahirschy31) 5 December 2017
"Pretty scary, really. I didn't think it was going to come to that, but I am starting to get pretty concerned," she said.
@MarkKonoSky5 over the #ThomasFire North of Foothill Blvd

Fire is at 31,000 acres burned & 150 structures destroyed @LaurenLyster and @e_espinosa on scene @KTLA @KTLAMorningNews pic.twitter.com/QstEkRRe1N

— Meghan McMonigle (@meghanmcmonigle) 5 December 2017
In Ventura, the sheriff's office has said it was forced to resort to knocking door-to-door to warn residents in the fire's path to evacuate.
Breaking: #ThomasFire has now burned 25,000 acres of land. The fire is expected to threaten Ventura, a city of over 100,000 people, within the next few hours. There are multiple reports of residents trapped. Firefighters say that the fire can last for days. pic.twitter.com/xnWciJDLmL

— PM Breaking News (@PMBreakingNews) 5 December 2017
"The fire is still out of control and structures are threatened throughout the fire area," the Ventura County Sheriff's Office said in a statement.
#ThomasFire in Upper Ojai. This is the lady and daughter I picked up. Her husband is missing pic.twitter.com/pxRsMg7c7v

— Trevor Quirk (@quirklawyers) 5 December 2017
"Due to the intensity of the fire, crews are having trouble making access, but there are multiple reports of structures on fire," they warned.
A home is engulfed in flames after the #ThomasFire blazes across Ventura County. The latest: https://t.co/MNGszHs6Al pic.twitter.com/MEVH9M1WLT

— ABC7 Eyewitness News (@ABC7) 5 December 2017
So far, an estimated 150 buildings have been destroyed across Ventura and Santa Paula counties. Residents of Ventura and neighboring Santa Barbara have also reported power outages. According to Susan Cox, a spokesperson for Southern California Edison, at one point as many as 260,000 homes may have lost power.
Multi level apt building burning in Ventura #ThomasFire pic.twitter.com/wAWGpAV2kn

— christina heller (@CHellerTVNews) 5 December 2017
Cox stated power had been returned to all but 20,000 homes but warned residents to brace for further outages, despite the efforts of hundreds of emergency workers. As of Tuesday morning, 500 firefighters were continuing to battle the flames, though poor weather including severe winds hampered efforts.
"All that firefighters can do when we have winds like this is get out ahead, evacuate people, and protect structures," Lorenzen stated.
According to the fire chief, extreme winds left emergency workers unable to use eight air tankers and six helicopters overnight.
Firefighters from Nevada County headed for Ventura County to fight the #ThomasFire pic.twitter.com/6CxnN1A5sm

— CAL FIRE NEU (@CALFIRENEU) 5 December 2017
#ThomasFire raging towards Santa Paula pic.twitter.com/n5XPEpBe4l

— christina heller (@CHellerTVNews) 5 December 2017
"We'll have them as soon as light is out, and they can safely fly," Lorenzen said.
My header image before & after the #ThomasFire pic.twitter.com/MqCBQ1etET

— Alex Padilla (@alexpadilla86) 5 December 2017
Flying over the #Thomasfire pic.twitter.com/ajthnbguW3

— TJtravels (@trevorjenkins01) 5 December 2017
No deaths reported
Despite devastating vast swaths of the countryside around Ventura, so far no deaths have been confirmed. Late Monday, authorities reported a possible death after an overturned vehicle was found at the site of a traffic accident near the fire exclusion zone. Officials have since clarified there were no fatalities, but are continuing to warn residents to be alert.
This year has already seen California hard-hit by wildfires. In October, at least 40 people were killed when a fire devastated the state's northern wine region. Around 10,000 buildings were destroyed, and around 20,000 people were forced to flee the Napa, Sonoma and Yuba counties. In Santa Rosa county, residents claimed the flames were hot enough to melt car windshields. At the same time, another smaller blaze scorched 24 homes in Orange County.
Everybody living in #Ventura , #Ojai , and #SantaPaula Area please be safe and evacuate ASAP. Wake Up your friends/family members if they arnt aware or the situation‼️#ThomasFire pic.twitter.com/zoJWRo54TO

— Brandon (@GranadosOVOXO) December 5, 2017
— Ryan Mallet-Outtrim