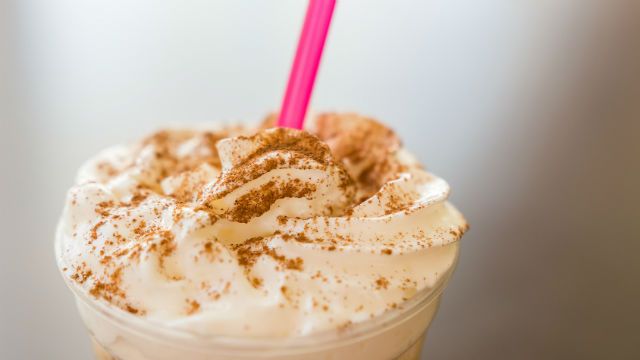 If you love those iced coffee drinks but don't like the way they lighten your wallet, why not make your own? It's fairly simple to make a delicious home brewed iced java without spending an arm and a leg.
The best basic homemade iced coffee
Unfortunately, pouring hot coffee over ice just doesn't work. You can try it, but you'll be left pretty disappointed. To make the perfect home brew, here's what you need to do:
Combine six ounces of coarse, ground coffee beans and six cups of cold water. Be sure to cover and completely saturate all of the beans. Now, cover the mixture and allow it to sit overnight, or preferably for 24 hours. Place a fine, mesh strainer over a pitcher and slowly pour the coffee mixture through, letting the liquid seep through. You may need to push the liquid through a bit. Pour it through the strainer one to two more times to ensure that all of the grounds have been caught. Discard the grounds after filtering.
Place your coffee in the refrigerator inside of a sealed container. Let it chill until you're ready to use. Then, to make your iced coffee, add one cup of ice cubes to a glass and a 1:1 ratio of coffee to water; mix well. Add cream or milk as desired to taste.
Pumpkin Pie Frappe
With autumn here, many coffee lovers are seeking a warm brew filled with fall spices, but tried-and-true iced coffee lovers still want their fix. The Pumpkin Pie Frappe will definitely do the trick.
Ingredients:
1 ½ cups coffee, frozen and partially thawed
2 tablespoons organic canned pumpkin
½ teaspoon pure vanilla extract
¼ teaspoon ground pumpkin spice
1 teaspoon raw, organic honey
½ cup unsweetened, full fat organic coconut milk
1 dash ground cinnamon
Place coffee, pumpkin, vanilla, pumpkin spice, honey and coconut milk into a blender and blend until smooth. Pour into a glass and sprinkle with cinnamon. If you're feeling a bit decadent, add a dollop of fresh, homemade whipped cream.
Mint iced coffee
If you love fresh mint, you will love this.

Ingredients:
Pre-made coffee ice cubes or regular ice cubes
2 ½ tablespoons fresh mint syrup (recipe below)
8 ounces coffee made using the basic iced coffee recipe
3 tablespoons milk or cream
fresh mint leaves for garnish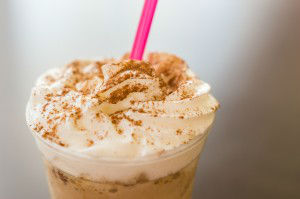 To make fresh mint syrup, add one cup water, one cup sugar, a large bunch of fresh mint leaves (roughly ¾ cup) and 1 vanilla bean (with seeds scraped) to a saucepan and heat over medium. Whisk continuously until the sugar dissolves and mixture is boiling. Allow it to bubble for a minute and then reduce the heat, letting it cool completely. Place into the refrigerator and allow it to chill overnight. Before using, strain out the mint leaves and vanilla pod.
To make your mint iced coffee, add ice cubes to a glass and pour the mint syrup over the top. Then add your coffee and stir in cream or milk. Top with fresh mint leaves and enjoy.
Healthy Starbucks Frappuccino Alternative
2 cups organic milk (traditional, coconut, almond or hemp)
½ teaspoon pure vanilla extract
2 teaspoons instant coffee
1/16 teaspoon sea salt
1 to 2 teaspoons fruit pectin for extra thickness and sweetness
Mix ingredients together in 1 or 2 shallow plastic containers. Freeze. When frozen, pop the blocks out of the containers. Thaw until just soft enough so that your blender can work its magic. Blend each serving individually, until desired slushiness is reached. Don't add ice or it will dilute the flavor. Pour into two glasses and enjoy.
Now maybe you can stash that cash that you've been spending on iced coffee into your savings!
-The Alternative Daily
Sources:
http://thehousewifeintrainingfiles.com/iced-coffee
http://www.peanutbutterandpeppers.com/2012/08/24/drink-your-pie
http://www.howsweeteats.com/2014/04/fresh-mint-iced-coffee
http://chocolatecoveredkatie.com/2011/08/01/healthy-starbucks-frappuccinos