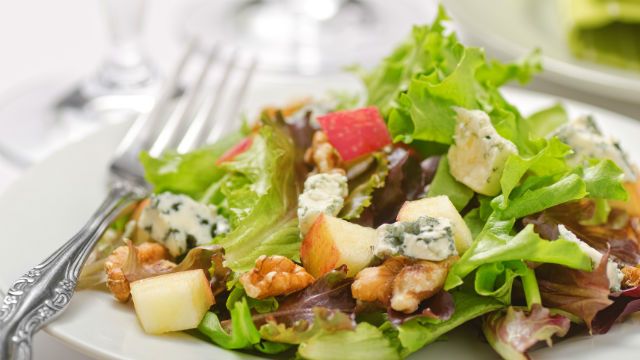 Just the word "salad" sounds healthy, but some salads are anything but. A hunk of iceberg topped with a ranch dressing and croutons definitely isn't the most nutritious choice.
However, the following summer salads are not only good for you, they're absolutely delicious – and they really hit the spot on sizzling hot days.
Remember to always use organic ingredients in order to get optimal nutrition without the toxins.
Zucchini, Asparagus, and Baby Spinach Summer Salad
Ingredients:
1 large zucchini with the ends removed, shaved with a vegetable peeler into long, thin strips, approximately ⅛" thick
8 stalks asparagus, ends removed, shaved with a vegetable peeler into long, thin strips approximately ⅛" thick
2 cups baby spinach
1 tsp apple cider vinegar
1 tsp mustard
2 T extra-virgin olive oil, plus additional for garnish
Sea salt, to taste
Freshly ground pepper, to taste
¼ cup whole-milk ricotta
Directions:
Combine the zucchini, asparagus, and baby spinach in a large bowl and toss to combine. Set aside. To make the vinaigrette, blend the mustard and vinegar together in a small bowl.
Slowly drizzle in the olive oil, stirring to combine with a whisk. Season to taste with sea salt and pepper. Toss the vegetables with the vinaigrette to coat. Serve with a dollop of ricotta on top and drizzle with additional oil. Sprinkle on some freshly ground pepper and enjoy.
Chicken and Mango Romaine Salad
Ingredients:
2 T extra-virgin olive oil
1 lb boneless, skinless chicken breast halves
2 shallots, finely chopped
2 T balsamic vinegar
4 cups shredded romaine lettuce
1 small bunch watercress, with stems trimmed
½ cup finely shredded red cabbage
1 mango, peeled and cut into ½" chunks
½ tsp sea salt and ¼ tsp pepper, divided
Directions:
Heat 1 tablespoon of the oil in a large skillet over medium heat.
Season the chicken with ¼ teaspoon sea salt and ⅛ tsp pepper.
Cook, turning until golden brown and cooked through, about 6 minutes on each side. Transfer to cutting board.
Add the shallots and 1 tablespoon of the vinegar to your skillet and cook, stirring, until shallots become soft and liquid is almost evaporated, about 3 minutes. Transfer to small bowl.
Add the remaining 1 tablespoon oil and 1 tablespoon vinegar to the shallot mixture. Season with ¼ teaspoon salt and ⅛ teaspoon pepper and whisk to combine.
Place the romaine, watercress, cabbage, and mango into a serving bowl. Cut chicken diagonally into long, thin strips and add to romaine mixture, toss with your favorite healthy dressing, and serve immediately.
Heavenly Roasted Rhubarb and Baby Greens Salad
Ingredients:
2 cups fresh rhubarb, cut into ½" chunks
2 T balsamic vinegar
1 T extra-virgin olive oil
1 T minced shallot
¼" tsp sea salt
¼ tsp freshly ground pepper
8 cups mixed baby greens
½ cup crumbled goat cheese
¼ cup chopped toasted walnuts, toasted
¼ cup golden raisins
Directions:
Preheat oven to 450° F.
Spread rhubarb in an even layer on a rimmed baking sheet.
Roast just until it begins to soften, about 5 minutes.
Let cool for about 10 minutes.
While the rhubarb is baking, whisk vinegar, oil, shallot, salt and pepper in a large bowl.
Add greens; toss to coat with the dressing.
Divide greens among 4 plates and top with the rhubarb, goat cheese, walnuts and raisins.
Superfood Salad
Ingredients:
½ head small little gem lettuce
1 spring onion
¼ cup sprouted mixed beans
1 large closed cup mushroom
¼ cup organic blueberries, strawberries, or melon
Handful of mixed seeds (sunflower, pine nuts, or pumpkin)
Sea salt and cracked black pepper, to taste
Directions:
Cut the little gem lettuce into small pieces and transfer to a large bowl.
Finely slice the the spring onion and add to bowl; toss in the sprouted beans.
Clean and then gently peel the mushroom, slicing very thinly, and add it to the bowl.
Add blueberries or other fruit to the bowl along with the mixed seeds and combine.
Toss with lemon juice or your favorite dressing and enjoy.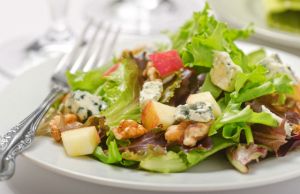 Apple Walnut Salad
Ingredients:
8 cups apples, coarsely diced (Pink Lady, Granny Smith, or Jonathan work especially well)
2 cups walnut halves, toasted
Juice of 2 lemons
1 T organic mayonnaise (like Spectrum Naturals)
1 cup mint leaves, loosely packed and torn
1 T raw (preferably local) honey
Directions:
Mix together apples, lemon juice, mint leaves and walnuts.
In a separate bowl, combine mayonnaise and honey and then pour over apple mixture and toss.
Refrigerate for 1 hour, then remove and serve at room temperature. Garnish with mint sprigs.
-The Alternative Daily