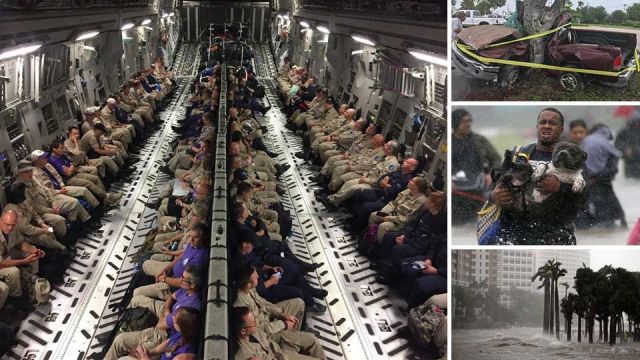 Hurricane Irma battered Florida with triple-digit wind and left many residents without electricity. It hit lower Florida Keys with wind speeds of up to 130 m.p.h. early on Sunday morning. Many streets of Miami are now submerged under water, and three construction cranes collapsed. Though the hurricane has now been downgraded, it still has sustained winds of 70 m.p.h. as it moves further inland.
"Power lines are down throughout the state. We've got roads that are impassable, so everybody's got to be patient as we work through this," said Florida governor Rick Scott. Florida is now launching a relief operation, with care needed for victims, cleaning up of debris and restoration of power as the top priorities.
Videos of Hurricane Irma
Irma destroyed Maho Beach in St Maarten. The destruction from the hurricane was worse in the Caribbean islands than in the U.S.
A collection of footage of Irma hitting Florida keys.
The hurricane peels off a roof in Florida Keys.
A brave reporter covers Irma live from Daytona Beach, Florida.
Furniture is scattered along the roads in the aftermath of Irma in Florida.
One man captured footage of winds from his Florida home.
Meteorologist Simon Brewer goes outside to measure Irma wind speed.
Brickell Bay Drive in Miami looks like a river.
Shocking photos and tweets from Hurricane Irma
AIR Worldwide estimates industry insured losses in U.S. resulting from #Irma to range from $20-40 billion. More: https://t.co/0yKYI5RsBM pic.twitter.com/2Ifd8u0xIH

— Reuters Top News (@Reuters) September 11, 2017
Hurricane #Irma downgraded to category one storm, moves 25 miles northeast of Tampa, Florida, US forecasters say https://t.co/CD0GeVBM3Z pic.twitter.com/OuBJI6wcQH

— BBC Breaking News (@BBCBreaking) September 11, 2017
JUST IN: Power outages from Hurricane #Irma rise to about 2 million in Florida – FPL, other utilities https://t.co/CqYxQg1RmX pic.twitter.com/1gPC37fh73

— Reuters Top News (@Reuters) September 10, 2017
#StormSurge wasn't modeled to be this high along the #Miami River. Not even an evacuation zone! Up to 3 ft and rising #Irma #HurricaineIrma pic.twitter.com/iTEwrPHkp9

— Todd Kimberlain (@ToddKimberlain) September 10, 2017
House is on stilts about 15′ high! Can see tops of palms. Pic FL Keys (Cudjoe Key) #Irma #FLwx pic.twitter.com/NfpknFDX73

— Chris Suchan (@ChrisSuchanKCTV) September 10, 2017
#Brickell Ave looks like an ocean. Rivers of water taking over Miami's financial district. Unprecedented flooding. #hurricaneIrma #irma pic.twitter.com/ngm9fo1b2x

— marina portnaya (@portnayanyc) September 10, 2017
How many 'worst storm', 'hottest temp', 'largest natural disaster', do we face before we #ActOnClimate @realdonaldTrump?#Harvey #Irma pic.twitter.com/QSb4kDYAPx

— Mike Hudema (@MikeHudema) September 10, 2017
Crane in Miami, Florida partially collapses in the winds of Hurricane #Irma

LIVE updates: https://t.co/iNgHFkePzD pic.twitter.com/zbbpqMlfv9

— BBC News (World) (@BBCWorld) September 10, 2017
Hurricane Irma Claims first victim in Florida!!! ⛈️ #FloridaKeys #Irma #hurricaneirma2017 #hurricane #Irma https://t.co/7a8IO62ttx pic.twitter.com/Y0ERu0QEVe

— shan (@ShantySwaby) September 10, 2017
#hurricaneirma2017 pic.twitter.com/9XdhQvBZ79

— Canis™ HurricaneIrma (@CanisKnine) September 11, 2017
BRUHHHH how Ima get in my house man 😭 #hurricaneirma2017 pic.twitter.com/sZq6MvdlZC

— bmm'letty.♡ (@Letyshaaa__) September 11, 2017
#irmaaftermath more down trees blocking some lanes in SW dade. #hurricaneirma2017 pic.twitter.com/Rhmhouz3xz

— RPG (@RedPillGraphix) September 11, 2017
#IrmaAftermath stay safe out there if you need to head out. Nice to see the sun thru fallen trees. @weatherchannel #hurricaneirma2017 pic.twitter.com/ns5DcB4avP

— RPG (@RedPillGraphix) September 11, 2017
Wow! @StPetePD tweeted Monday morning that the Starlite Princess broke loose from its moorings and hit the Bayway Bridge. #IrmaAftermath pic.twitter.com/hk7R3qftiD

— Bay News 9 (@BN9) September 11, 2017
#FPL working to restore power as quickly as possible. Proud daughter of former FPL employee who worked through Andrew #IrmaAftermath @nbc6 pic.twitter.com/617Fpf3mPO

— Amanda Plasencia (@AmandaNBC6) September 11, 2017
POWER OUTAGE numbers in Bay area continues to grow. #irma #irmaaftermath Latest numbers here -> https://t.co/UgiOGCnjGa

— Bay News 9 (@BN9) September 11, 2017
#IrmaAfterMath pic.twitter.com/dXZhQXmJMz

— Suly (@MzeSuly) September 11, 2017
#hurricaneirma2017 hoping we all made it through. This was a tough one. pic.twitter.com/75mRBr2Dcv

— Murph Dawg (@MurphDawgRadio) September 11, 2017
Driving in Miami. #hurricaneirma2017 pic.twitter.com/zMGOlJK8XJ

— oliver dearden (@oliverdearden) September 11, 2017
200 y/o oak that took out the power in my sister's neighborhood in downtown Orlando #hurricaneirma2017 pic.twitter.com/Q4yIvKVHRH

— CJ Fairfield (@FairfieldCj) September 11, 2017
Please help my fellow residents in Naples anyway you can. #HurricaneIrma2017 #NaplesDailyNews #Florida #Irma pic.twitter.com/mkjSce5nLO

— Brittney Henry (@brittdaymare) September 11, 2017
#hurricaneirma2017 had quite the force to uproot this tree out of the ground in Sumter County pic.twitter.com/S4IW00BJgi

— Clay LePard (@ClayLePard) September 11, 2017
.@andysullivan and I talking to Keys residents waiting to get back home and survey the damage #hurricaneirma2017 pic.twitter.com/sdfRHiTuuL

— Justin Mitchell (@JstnMtchll) September 11, 2017
When #hurricaneirma2017 gives you a lake, you don't complain, you thank #MotherNature for sparing you. #Orlando #StaySafe pic.twitter.com/ZDh54kpyRO

— Meet Moriarty (@meldmello) September 11, 2017
No power after #hurricaneirma2017 still can make coffee though. pic.twitter.com/DwEQvQVEh7

— Tim Fritz (@fritztr) September 11, 2017
Tree down on the house causing 2 leaks in the roof. This is in Lake Mary. Still have power. @Fox35Amy #hurricaneirma2017 #Fox35NewsWeather pic.twitter.com/WZXWnquw3P

— Kat Hunter (@KatOrlPrideSupp) September 11, 2017
#Hurricane Irma Storm Surge 🌊🌊🌊#Jacksonville #florida #irma #HurricaneIrma #hurricaneirma2017 #StormSurge #weather pic.twitter.com/Sz46Ns5jLp

— LAC 🌀🔬( ͡° ͜ʖ ͡°) (@laurelaubrie1) September 11, 2017
Irma May Force Florida Insurers to Turn to Deeper Pockets https://t.co/3eDMRHM8bP #HurricaneIrma2017 #HurricanesandTropicalStorms pic.twitter.com/OI1e6A41Pg

— NYC Digital Tech (@nyc_digital) September 11, 2017
Trees down outside. 😔🌳🌴 #HurrcaneIrma #hurricaneirma2017 #DelrayBeach #WestPalmBeach #Trees #Florida #Weather pic.twitter.com/2zOqEq2VyD

— Ryan T. Mackman, MHA (@rmackman) September 11, 2017
#hurricaneirma2017 knocked over a truck trailer onto sidewalk and downed many trees at NDN offices in North Naples. pic.twitter.com/Ce3FzwssLV

— Tim Aten (@TimAtenKnows) September 11, 2017
Large tree down. Power lines down. Jacksonville. #hurricaneirma2017 #JEA pic.twitter.com/5t440Z11jS

— Phantomsunset (@Phantomsunset) September 11, 2017
The fence along the front of my building took a hit. The cement pillars were dug 2 feet deep. #HurricaneIrma #hurricaneirma2017 pic.twitter.com/2Ng6ZZEydf

— Dennis Shannon (@DennisMShannon) September 11, 2017
#hurricaneirma2017 #sinkhole #hurricanirmasinkhole #damagefromhurricaneirma pic.twitter.com/UjEyTENCKy

— Sandie Lambert (@Sandieroo22) September 11, 2017
Apparently I now have a lake view. But so grateful not worse here in #orlando. Winds raged all night. #hurricaneirma2017 #florida pic.twitter.com/UU6QOOrcKT

— Valerie Sisco (@GraceWithSilk) September 11, 2017
Tree completely uprooted in my neighborhood. #HurricaneIrma #hurricaneirma2017 @abcactionnews @GregDeeWeather pic.twitter.com/n8sUIyluZp

— Dennis Shannon (@DennisMShannon) September 11, 2017
The breaking of Day – We made it through that rough high windy rainy night. Electricity is still on. #hurricaneirma2017 🙏🏾 pic.twitter.com/QVp0BqOrRs

— J Dianne Tribble (@AttheTable_wDi) September 11, 2017
@RedCross opens 5 shelters across the state of North Carolina to help Hurricane Irma evacuees @WFMY #hurricaneirma2017 #irma pic.twitter.com/zrZ9w7idCu

— kandacereddtv (@KandaceReddTV) September 11, 2017