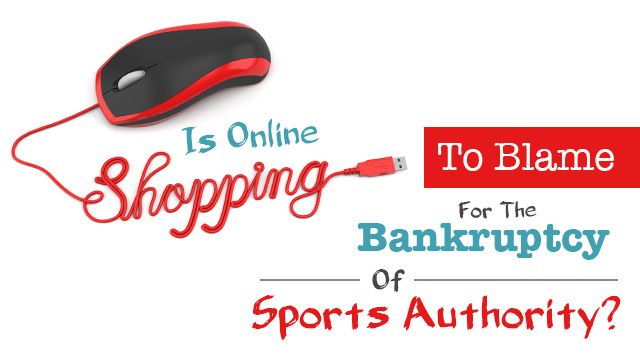 The privately held Sports Authority was founded in 1928 as Gart Sports in Fort Lauderdale, Florida. The name was changed to Sports Authority in 1987, with its company headquarters located in Englewood, Colorado. Private equity group Leonard Green & Partners, LP purchased Sports Authority in 2006 for $1.3 billion. At the time of its closing, Sports Authority had 450 outlets throughout the country. That's a lot of stores in the current retail environment, and Sports Authority failed to close sufficient stores and focus more on e-commerce in a timely manner.
Debt and other issues
Sports Authority's chief financial officer, Jeremy Aguilar, also noted in the court filing that "outdated information systems, frequent turnovers in its leadership and a history of mergers" also led to the bankruptcy filing, according to Reuters. One huge issue was the company's debt. Over the next two years, there was $1 billion in debt coming due. The bankruptcy filing states that Sports Authority had assets of $1.3 billion and liabilities of $1.1 billion. The company had originally considered restructuring after the bankruptcy filing, but on May 1 announced its plans to liquidate assets and close all stores. In a quick turnaround, it announced two days later that it was not liquidating after all.
Message from the CEO
A message from Sports Authority CEO Michael Foss on the company's website dated May 3 states that the company will sell 140 of its stores, a process it expects to have completed by June.
Holiday season 2015
Even though malls appeared packed on Black Friday, brick-and-mortar stores did suffer from online competition this past holiday season. Bloomberg's reports that online sales were up 25 percent on Thanksgiving Day over 2014. For the past three years, customer visits to retail stores have declined while e-commerce shopping has risen. One side effect of this trend is a reduction in the impulse buying so often occurring in physical stores, which affects the bottom line. 
Online companies open brick-and-mortar stores
Some retail outlets that began online have opened or are considering opening brick-and-mortar stores. Amazon recently opened a bookstore in Seattle and plans to open others this year. While customers can browse the bookshelves — and have access to books published under Amazon's imprint, which some of its brick-and-mortar competitors decline to carry — there's also no problem with ordering a book online while you're in the store. The store's showcase, however, is digital devices. The majority of folks want a hands-on demo of technical devices before they make a purchase, whether in a store or online.
For some types of retailers, allowing customers to see and touch the merchandise makes good business sense. Made.com, an online furniture retailer in the UK, is opening showrooms where customers can look at and try out the furniture, then order it for delivery. 
Complementary retailing
The future of successful retailers appears more like a blend of e-commerce and brick-and-mortar sales. This complementary retailing — known as omni-channeling — still has growing pains, but customer convenience is paramount. Indeed, critics claim that Sports Authority faced competition from omni-channel merchants and did not successfully differentiate itself as a brand.
Ideally, a customer can return an online purchase to a physical store, and a physical store can easily order an item unavailable in its location. Another incentive involves encouraging people to order online and pick up their purchase at the store. Once the person is in the store, they may be enticed to make buy other merchandise. The retailer offering the most convenient ways to shop, through various platforms, will have the advantage in years to come. The in-store experience must offer opportunities unavailable online, and what that entails depends on particular products and the target market.
Online shopping may have contributed to the demise of Sports Authority, but it's not a death knell to physical stores generally. Commerce is survival of the fittest, and retailers must adapt or disappear. Stores that keep up with trends — which Sports Authority did not — and provide excellent customer service and a worthwhile store experience should flourish. Although technology has changed shopping in innumerable ways, customer satisfaction remains as important as ever.
—Jane Meggitt
Jane Meggitt graduated from New York University and worked as a staff writer for a major New Jersey newspaper chain. Her work on pets, equines and health have appeared in dozens of publications, including The Daily Puppy, The Nest Pets, Horse News, Hoof Beats and Horseback magazines.
Sources:
http://www.retaildive.com/news/how-sports-authority-went-bankruptand-who-could-be-next-to-fall/415343
http://www.reuters.com/article/us-sportsauthority-bankruptcy-idUSKCN0W416O
http://www.computerweekly.com/feature/Are-bricks-and-mortar-stores-the-next-step-for-online-retail
http://ecommerce-platforms.com/ecommerce-selling-advice/what-ecommerce-growth-means-for-brick-and-mortar-shops
http://www.nytimes.com/2016/03/12/business/media/a-virtual-trip-through-amazons-physical-store.html
http://www.kccllc.net/sportsauthority
http://www.bloomberg.com/news/articles/2015-11-27/online-sales-surge-ahead-of-brick-and-mortar-retailers-big-day
http://www.sportsauthority.com/home/index.jsp?camp=PPC_Google_Brand-SportsAuthority-Online_SportsAuthority-Website&gclid=CjwKEAjw3qu5BRC-0uCw8O6Y5zcSJAA_WtdLRCSYJoIeVtwgoC–RaGHpLZqRbnS3UtLuxsTC4wxKRoCEZDw_wcB