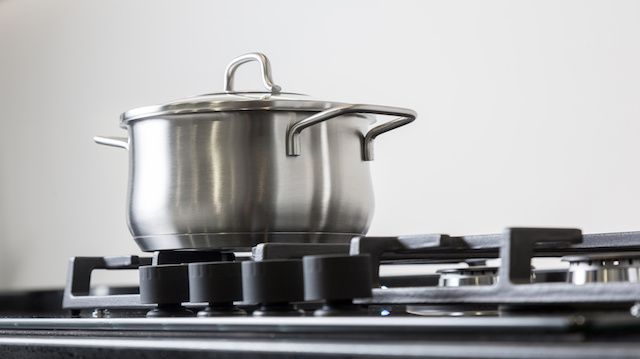 Working full-time and trying to feed a hungry family means creating tasty meals that are nutritious, take little time to prepare and cook with minimal fuss. These one-pot meals require less time in front of the stove, leaving more time for your family.
One-Pot Chicken and Spanish Rice
Perfect on its own or as an accompaniment to Taco Tuesday!
Serves 4
Prep time: 10 minutes   
Cook time: 30 minutes                        
Ingredients
2 tbsp olive oil

4 skinless, boneless, organic, free-range chicken breasts

1 tsp sea salt or pink Himalayan salt

1/4 tsp freshly ground black pepper

1 onion, peeled and chopped

1 medium green bell pepper, sliced

1 cup organic chicken stock

1 can (28 oz) organic tomatoes with juice (3 1/2 cups)

1 cup long-grain rice

1 tsp sweet paprika

1/2 tsp cayenne pepper

3 garlic cloves, minced

1 cup frozen peas

1/4 cup pimento-stuffed green olives

1/4 cup flat-leaf parsley, chopped
Instructions
Heat the olive oil in a large saucepan over a medium heat. Pat the chicken breasts dry with paper towels and season with half a teaspoon of the salt and the pepper.

Cook the chicken until golden brown, about 2 minutes per side. Add the chopped onion and bell pepper and cook until soft, about 5 minutes.

Add the chicken stock, tomatoes and juice, rice, paprika, cayenne pepper, chopped garlic and remaining half teaspoon of salt. Bring the chicken and rice to a boil and then reduce the heat; simmer, covered, for 20 minutes.

Stir in the peas and continue to cook, covered, until heated through, about 2 minutes. Stir in the olives and parsley and serve.
One-Pot Smoky Pork and Beans
The kids will love this healthy version of a classic dish.
Serves 4
Prep time: 5 minutes
Cook time: 40 minutes                         
Ingredients
2 tbsp olive oil

2 garlic cloves, crushed

2 tsp smoked paprika

1 tsp sea salt or pink Himalayan salt

1 tsp freshly ground pepper

4 (8-oz) pork chops, bone-in, 1 inch thick

4 cups navy beans, drained and rinsed

2 tbsp organic tomato paste

1 tbsp pure maple syrup

2 tsp ground chipotle
Instructions
Preheat oven to 400°F. Mix the oil, one clove of garlic, one teaspoon of paprika, half teaspoon of salt and half teaspoon of pepper in a small bowl. Rub this mixture on the pork chops.

In a large, shallow ovenproof dish, mix the beans, tomato paste, maple syrup and ground chipotle with the remaining smoked paprika, garlic, salt and pepper.

Nestle the pork into the beans and bake for 40 minutes until the pork is cooked through. Serve hot and enjoy with a fresh salad.
One-Pot Greek Lamb with Green Beans
The Mediterranean diet is the epitome of healthy eating. Go Greek for a night and try it for yourself.
Serves 6     
Prep time: 20 minutes   
Cook time: 60 minutes                    
Ingredients
2 tbsp olive oil

1 1/2 lbs lamb, cubed  

1 tsp sea salt

1 tsp black pepper

1 large yellow onion, chopped

4 cups fresh green beans, washed and trimmed

1 can (28 oz) organic crushed tomatoes (3 1/2 cups)

2 cloves of garlic, minced

1 tsp oregano
Instructions
Heat the olive oil in a large, deep skillet over a medium heat. Sprinkle the lamb pieces with half a teaspoon each of sea salt and pepper. Add the lamb pieces to the skillet and cook until brown and caramelized. Add the onion and cook with the lamb until translucent.

Add the green beans, crushed tomatoes, garlic, oregano and the remaining salt and pepper. Reduce heat to low, cover and simmer for 1 hour, until the lamb is cooked through and the beans are tender. If you prefer crisper beans, add them after 30 minutes.

Check the liquid halfway through cooking. If there is too much liquid, simmer uncovered for the final 30 minutes — for too little liquid simply add a little water. Cook until tender.
Enjoy!
—Katherine Marko
Katherine Marko is a freelance writer, author and blog creator. Her areas of expertise include food, health, style, beauty, business and nutrition. Marko holds a Bachelor of Arts in English, a diploma in photography, graphic design and marketing, and certification in esthetics.