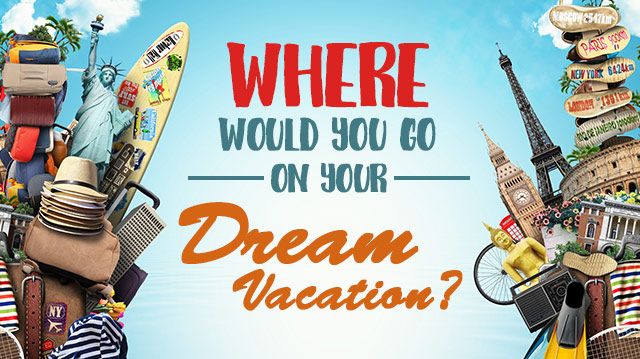 Humans are dreamers. Everyone has a dream car, a dream house, a dream job. And most likely, a dream vacation — the trip of a lifetime. You plan it out, make a list of all your expenses, compare the numbers, wish you were in a higher tax bracket, and laugh it off as another unattainable fantasy. Maybe you share your dream with your family or with coworkers over drinks, and they laugh with you. Knowing full well that statistics and lack of funds are against your crazy travel dreams. But are they really?
My question to you today is, why not? Why can't you make your dream a reality?
Dreams, wishes, hopes. So many of us don't view these as things to be grasped. We file them away in the little brain box labeled "never going to happen" and pull them out once in a while to stare wistfully at pictures of pure white beaches and winding historic alleyways. Maybe it's time to put them instead into the "possibilities" box and start planning in earnest — making a real effort to save up and see the world. 
The first step is to stop second-guessing yourself. You are your greatest enemy, and only you can stand in your own way. Though it's easier said than done, you need to leap over the first hurdle of self-doubt if you're going to make any forward movement. 
Start small! While it may seem impossible now, each small step you take toward your goal is vital for success. Cut out unnecessary expenses, review your budget, and set aside a small amount of money every week toward your "vacation fund."
It doesn't have to happen immediately. You may be saving up for your dream vacation for months, even years. Don't become discouraged by your slow progress. Instead, adopt a positive attitude, inject a little more optimism into your outlook and see the jar as half-full. 
Don't get so caught up in saving money that you forget to enjoy the present moment. Your vacation is going to be awesome, but don't let that distract you from the wonders of your daily life. Find something beautiful to be grateful for every day.
We'd love to hear about your dream vacation! Where do you want to go? 
—Taylor Patterson
Taylor lives in the mountains of Arizona where she enjoys an active lifestyle including hiking, horseback riding, kayaking and backpacking. She is a Certified Wilderness First Responder and spends a great deal of time educating others on how to enjoy the wilderness safely. An avid reader, writer, photographer and blogger, Taylor believes that being active and spending time in nature are essential to good health.