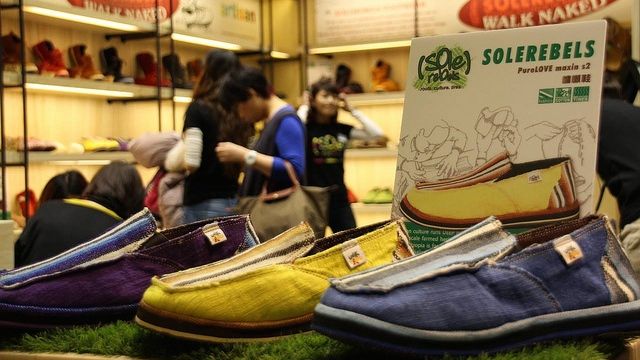 You've probably never heard of the brands Enzi, the Made in Africa Initiative or soleRebels, but they may be on the label of the next pair of shoes you buy —and they're all made in Ethiopia.
As a nation, we've grown accustomed to 'made in China' labels. From the clothes we wear, to the devices we use and the shoes on our feet, most of them were made in China. Even as China's economy slows, it remains the world's main manufacturer producing billions of dollars in goods each year. The Chinese government wants to move away from low-level, low-paying manufacturing jobs, and this change is opening a huge door for millions of jobs in Africa, and Ethiopia in particular.
When footwear brand Enzi opened its first store in Addis Ababa the words "Made in Ethiopia" were not associated with luxury. Now, the high-end shoe brand is on a mission to change the perception that high-quality products are not made in Africa.
After they realized that Ethiopia had a rich supply of leather and an emerging manufacturing industry, co-founders Jawad Braye and Azariah Mengistu started Enzi in 2011 with $30,000 in investment capital. Most of that was wasted on trying to manufacture the shoes in Kenya. They found their success when they began manufacturing themselves in a small garage in Addis Ababa, Ethiopia. Today, the company ships to markets in Europe, Asia and the U.S.
"What differentiates us as a brand is how well made the shoes are," Mengistu tells CNN. "Every single millimeter counts, every stitch is important."
Enzi, with shoe prices that start at about $125 a pair, has ensured such high quality standards by setting up its own production line—rather than relying on any existing one—and developing employees that put the emphasis on perfection. That's why it's on track to becoming Ethiopia's next big startup.
Also on that track is shoeRebels, another Ethiopian manufacturer that already has opened 20 stores worldwide. They sell distinctive, brightly colored shoes, boots and sandals made from recycled tires, leather from free-range animals and handwoven cloth by Ethiopian artisans in the impoverished community of Zenabwork, a suburb of the nation's capital city, Addis Ababa.
In one of their stores in Gràcia, a fashionable bohemian district in Barcelona, Spain, fans include 30-something locals, seniors who like comfortable and attractive footwear, parents who adopted Ethiopian children and Germans living in the city.
"It is not footwear we are producing – it's a kind of art," explained Bethlehem Tilahun Alemu, who founded soleRebels in 2005 in the neighborhood where she grew up, after realizing skilled residents lacked job opportunities."For people to be innovative… they don't have to really travel a long way or copy somebody's business idea. It's right there," she told the Thomson Reuters Foundation.
Alemu, who is in her mid-30s, said she is not a fan of foreign aid because she believes it has not helped her community or country. Instead, she wants to see people help themselves with dignified work and fair wages.
Her company has about 420 employees who earn four to five times minimum wage in Ethiopia, according to the soleRebels website. SoleRebels is the only footwear company that is certified by the World Fair Trade Organization, the site notes.
As China transitions its economy from manufacturing to services, some 85 million jobs will be up for grabs as a lot of that industrial production looks for a new home. Ethiopia is aggressively positioning itself as a destination for some of that Chinese manufacturing.
However, Ethiopia's infrastructure is less developed, its workforce is less educated and its supply network chains are not as strong compared to other global regions such as Southeast Asia. That's why Africa has been a tough sale for global manufacturers who want to keep costs at a minimum.
But none of Ethiopia's challenges seems to discourage Helen Hai. She's the exuberant CEO of the Made in Africa Initiative and former vice president of the Chinese shoe-making giant Huajian. She helped set up the company's first factory near Addis Ababa where today some 4,000 workers produce 7,500 pairs of shoes for famous brands such as Nike, Guess, Nine West and many others.
Hai, who also works as a United Nations ambassador, believes the success of Huajian in Ethiopia is just the beginning. She points to the country's ability to attract Chinese auto manufacturers and other heavy industry as evidence that not just Ethiopia, but Africa in general is well-positioned to pick up some of that industrial production that is now leaving China.
–Kimberly Hayes Taylor