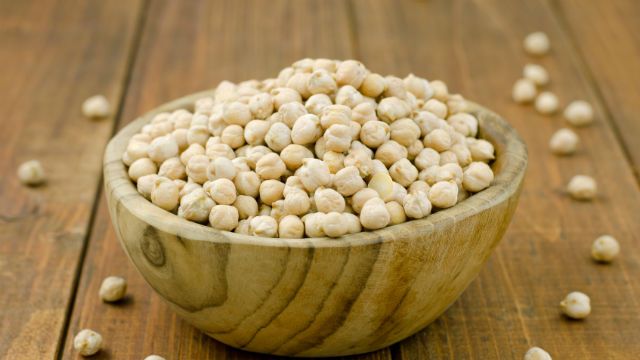 Chickpeas have a tasty nut-like flavor and a buttery, yet somewhat starchy, texture. They offer a wealth of health benefits, including being rich in soluble and insoluble fiber, which can aid digestive disorders, help stabilize blood sugars and boost weight loss efforts. They are also an excellent source of protein and packed with iron, and help to support a healthy heart.
If you'd like to incorporate more chickpeas into your diet, consider trying one or more of these recipes.
Chickpea Potato Curry
This is a filling, flavorful recipe that is easy to put together at the last minute.
Ingredients:
2 ½ cups organic vegetable broth
2 – 15 ounce cans of organic chickpeas, drained and rinsed
2 medium-sized fresh, organic tomatoes, chopped
6 baby organic potatoes, quartered
1 medium organic onion, diced
2 tablespoons unsalted, organic butter
2 teaspoons fresh minced ginger
1 teaspoon sea salt
1 teaspoon ground cumin
1 teaspoon ground coriander
¼ teaspoon cayenne pepper
Instructions:
Heat the butter over medium-high heat in a large pot. Add the onions, tomatoes and ginger, sautéing until onion begins to brown, for about 5 minutes. Add salt, cumin, coriander and cayenne; stir to combine and cook for another minute or two. Add remaining ingredients and stir to mix. Simmer for about 35 minutes, or until potatoes are tender.
Roasted Chickpea Snack
If you're craving chips, consider this healthy snack instead.
Ingredients:
2 tablespoons cold-pressed, organic olive oil
1 tablespoon ground cumin
1 teaspoon garlic powder
½ teaspoon chili powder
1 pinch sea salt
1 pinch ground black pepper
Dash crushed red pepper
1-15 ounce can organic chickpeas, rinsed and drained
Instructions:
Preheat oven to 350 degrees F. Combine the oil, cumin, garlic powder, chili powder, sea salt, black pepper and red pepper with a wire whisk in a small bowl. Add the chickpeas and toss well to coat.
Spread onto a single layer on a baking sheet and roast in the oven. Stir occasionally, until the chickpeas are browned and slightly crispy, typically for about 45 minutes.
Rice with Chickpeas, Fennel and Citrus
This dish is so delicious and satisfying it's enough for a one-dish meal, or it can be used as a side dish for a larger meal.
Ingredients:
1 large fennel bulb with fronds
3 tablespoons cold-pressed, organic olive oil, divided
½ teaspoon ground coriander
1 ½ cups cooked and drained organic chickpeas (or 1 15-ounce can)
10 Kalamata olives, halved and pitted
Juice and zest of ½ lemon
Juice and zest of 1 orange
½ teaspoon sea salt
1 cup basmati rice
Instructions:
Juice orange into a measuring cup, topping off with water to make 2 cups of liquid. Add the liquid to a small saucepan with 1 tablespoon of olive oil and salt. Bring to a boil and stir in rice. Simmer for 40 minutes (or prescribed cooking time depending on the type of rice you are using).
Trim fennel and cut into ¼" thick wedges; reserve fronds for garnish. Heat 2 tablespoons of the olive oil in a large skillet over medium heat. Add fennel and cook, stirring occasionally until tender, for about 10 to 15 minutes.
Add coriander, chickpeas, olives, lemon juice and zest of lemon and orange and stir to combine. Continue cooking over medium heat while stirring occasionally.
Once rice is cooked, fork into fennel mixture. Mix together and serve, using the fennel fronds as garnish.
Warm Chickpea Salad
This salad makes a perfect meal for lunch.
Ingredients:
3 tablespoons cold-pressed extra virgin olive oil
2 tablespoons whole cumin seeds
¼ teaspoon dried red pepper flakes
4 finely minced garlic cloves
2 15-ounce cans organic chickpeas, rinsed and drained
½ cup sun-dried tomatoes, finely chopped
¾ cup Italian parsley, leaves only
1 lemon, juiced and zested
¾ pound organic cucumber
Sea salt to taste
Instructions:
Heat olive oil in a large skillet over medium heat. Add the cumin seeds and crushed red pepper, stirring constantly for about one minute, or until seeds are toasted. The cumin should turn just slightly darker.
Turn the heat down to medium-low, and add garlic; cook, stirring frequently for several minutes or until garlic turns golden but not brown. Add chickpeas and tomatoes and turn up the heat to medium-high. Cook, stirring frequently until chickpeas are heated through; remove from heat.
Next, strip any stems from the parsley, and finely mince. Toss with the chickpeas and then add lemon juice and zest. Peel the cucumber, cutting in half lengthwise. Scrape and discard seeds using a teaspoon and then dice into small, ½" squares. Toss cucumber with chickpeas and add sea salt as desired for taste. Refrigerate for at least one hour, or preferably overnight, before serving.
Curried Vegetable and Chickpea Stew
This is a great recipe for the slow-cooker and makes a warm, comforting meal during the colder months.
1 teaspoon organic coconut oil
1 large organic onion, diced
2 medium-sized organic potatoes, diced
1 tablespoon sea salt
1 tablespoon curry powder
1 tablespoon brown sugar
1" piece fresh, organic ginger, peeled and grated
3 minced garlic cloves
1/8 teaspoon cayenne pepper
2 cups organic vegetable broth
2 15-ounce cans organic chickpeas, drained and rinsed
1 diced green bell pepper
1 diced red bell pepper
1 medium head cauliflower cut into bite-sized pieces
1 28-ounce can diced organic tomatoes with juices (in BPA-free can such as Muir Glen)
¼ teaspoon black pepper
10 ounces fresh, organic baby spinach
1 cup organic coconut milk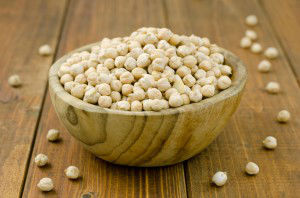 Instructions:
Heat the oil in a skillet over medium heat and sauté the onion with one teaspoon of the sea salt until translucent – about 5 minutes. Add potatoes and an additional teaspoon of salt, and sauté until potatoes translucent around the edges.
Next, stir in the curry, brown sugar, ginger, garlic and chili; cook for just 30 seconds, or until fragrant. Pour in ¼ cup of the vegetable broth and scrape the bottom of the skillet to deglaze.
Pour the onion and potato mixture into the slow cooker and add the remaining broth, chickpeas, bell pepper, cauliflower, tomatoes, pepper, and remaining teaspoon of salt. Stir to combine. Cover and cook on high for 4 hours and then stir in spinach and coconut milk. Cover for one minute in order to allow the spinach to wilt.
Enjoy!
-The Alternative Daily