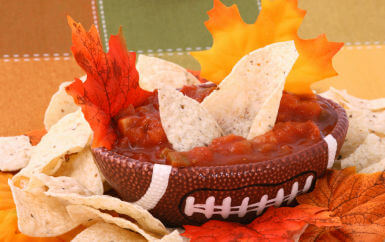 Its a cool and crisp Sunday afternoon and you are settling in to watch your favorite team put on a display of athletic prowess, or so you hope. Seated in your favorite worn out armchair with your snacks within reach – it is GAME TIME!
According to a newly released study conducted by French researchers, if your NFL team loses on Sunday you will bury your sorrow in junk food on Monday; consuming a great number of calories in pizza, cake, cookies and the like. In comparison, your friend, whose team won the game, will not eat as much.
This post-game overindulgence may come on top of the game feasting itself. Very few people sit down to watch football without some kind of snack closeby and traditional snacking items tend to be highly processed. This double whammy – two days of overeating- can add up, especially if your favorite team falls into a losing slump.
According to researchers, fans can overcome their unhealthy response to their team's defeat by putting the loss in perspective. Sports fans who wrote down what was really important to them after the game, had more control over their eating. This same principle can be applied to everyday life – the more time we spend actually thinking about those things that are important, like health, family and friends, the better food decisions we will make.
Previous studies have linked sporting defeats to an increase in domestic violence, alcohol-related crime and traffic deaths. This is especially true in areas where there is a large fan base and when the team loses by just a hair.
However, putting a team's loss into perspective is very difficult for most die hard fans.
Get Control of Your Eating
Thinking about what you are eating and what you are grateful for before the game even starts may give you a winning edge, even if your team is not successful. Why not try munching on healthy snacks during game day?
Healthier fare will not test your blood glucose level and create the desire to overeat the next day. In short, if you watch what you eat on game day you will probably have an easier time making wise food decisions on Monday, even if your team really, really disappointed you.
4 Healthy Football Snacks
Here are some delicious and healthy snacks to keep you full and level-headed during and after gameday!
Organic Chips and Salsa
If you are a chip and salsa lover, try making the switch from gmo and trans-fat laden corn chips to some tasty organic black bean chips and organic salsa. Bean chips have protein which will keep you feeling full longer and will not cause your blood sugar to skyrocket.
Organic salsa is loaded with tomatoes. Tomatoes are an amazing and tasty anti-inflammatory food. They are fat free, packed with vitamin C, which is essential for a healthy immune system. Tomatoes are also very dense in the carotenoid lycopene which possesses antioxidants to ward off free-radicals.
Chicken Wings
Wings are a favorite of football fans all over. However, processed wings or those prepared with conventional chicken and high-fructose laden sauces are extremely unhealthy and will send you blood sugar through the roof, leaving you hungry for more. Taking the time to make wings from free range organic chicken and homemade barbecue sauce is well worth your time.
A healthier and even tastier version of the processed barbecue sauces can be easily made. This homemade version is loaded with antioxidants and pairs wonderfully with free-range chicken wings.
Homemade Dipping Sauce
Ingredients:
1 tablespoon coconut oil
1 small red onion, chopped
4 cloves of organic garlic
1 jalapeno, seeded and finely chopped
1/2 cup organic ketchup
2 1/2 cups fresh or frozen blueberries (do not thaw them)
1/3 cup organic apple cider vinegar
1 tablespoon lime juice (optional)
2 tablespoons of coconut crystals
1/8 teaspoon ground allspice
Directions:
Heat the coconut oil in a large saucepan over medium heat.
Add the onion and stir occasionally until it turns slightly brown.
Add the garlic, lime juice and jalapeno and cook for about 30 seconds.
Stir in the blueberries, ketchup, coconut sugar and allspice and bring to a boil.
Turn the heat down and simmer for about 20 minutes.
Remove the pan from heat and let cool.
Store sauce in a glass jar in the refrigerator.
This sauce is best when used as a top sauce after meat is cooked, or for dipping.
Grass Fed Burgers
Try a grass-fed burger on a sprouted bun. Grass fed cows are grazed naturally, under the sun, on grass and are not fed a grain mixture they cannot digest that is loaded with genetically modified ingredients. Grass-fed beef is a valuable source of healthy saturated fat, protein and minerals. If you are watching your waistline, you can even wrap your burger in a crisp organic Romaine lettuce leaf or two. For great sources of local grass-fed meat visit EatWild.com. You can search for farms within your area. Of course, the best source is always local!
Guacamole Dip
Don't let the green color of this popular dip scare you. Made from avocados, onions, tomatoes, cilantro and lemons or limes, guacamole is bursting with nutrition. Healthy fat is not the only thing going for avocados. They contain twice as much potassium as bananas and a healthy amount of magnesium thought to play a vital role in blood pressure regulation.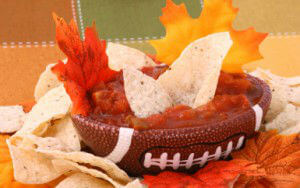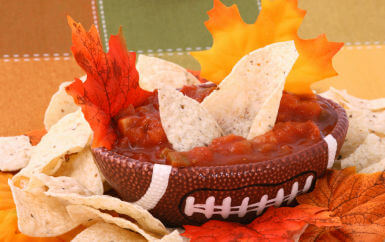 Some research indicates that avocados even protect against certain cancers because of their high antioxidant content. Avocados are rich in vitamins K, C and E, and contain three times more of the antioxidant glutathione, than any other fruit.
Serve your dip with fresh veggies, bean chips or sweet potato fries. Slice up a sweet potato into wedges and drizzle with coconut oil, italian herbs and sea salt. Sweet potatoes are loaded with fiber, antioxidants and potassium. Bake these wedges in a single layer at 450 degrees F for 30 minutes on each side or until they are brown.
Did you know? Super Bowl fans spend more than 50 million dollars on food during the four days prior to the Super Bowl.Wow!
-The Alternative Daily