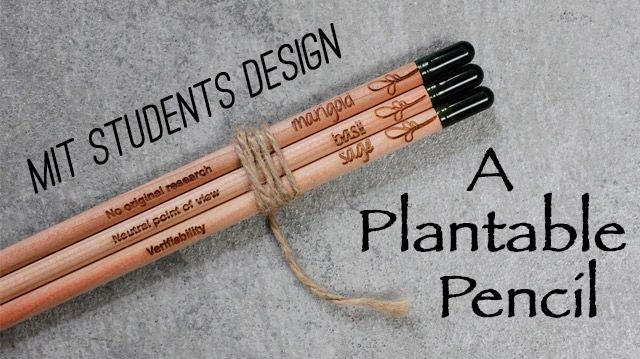 We only have one planet, and we know we need to take good care of it. One way to do this is to keep landfill waste down as much as possible. Every little bit helps.
When one thinks of landfill waste, pencil stubs may not immediately come to mind. However, if you think about the amount of students using pencils every day in classrooms across the world, it's a pretty huge number. Once the pencil is used up, the pencil stubs usually get thrown into the trash.
However, three innovative students at MIT came up with a much better use for a pencil stub. Three mechanical engineering graduate students in an MIT Product Design class, taught by Professor David Wallace, recently invented the plantable pencil. Thanks to the company Sprout, the pencil is now growing in popularity, and making gardens greener all over the world.
The pencil design is simple: instead of an eraser, the plantable pencil is equipped with a biodegradable, water-activated capsule containing seeds. Once the pencil has been used and sharpened down to a stub, the stub can be placed in the soil, watered, and voilà: a plant will grow.
The MIT inventors sold their pencil design to Sprout, a Danish company based outside of Copenhagen. Sprout's product line also includes plantable greeting cards, and "Tasty Gardens" — little window box gardens that use hemp instead of soil.
The pencils, which come in both standard grayscale and a variety of colors, include many types of seeds: flowers such as marigold, sweet pea, and forget-me-not; herbs including sage, thyme, basil, and lavender; and veggies such as green peppers, cherry tomatoes, and chiles. Sprout currently sells over 450,000 of these pencils each month, in over 60 countries.
Michael Stausholm, CEO of Sprout, says about their products: 
"We strive to rethink products and give them a second purpose, to minimize waste and make consumers more conscious of how and what they buy." 
For Earth Day, Sprout released a limited edition of the plantable pencil, filled with tree seeds. These pencils can be planted to produce spruce, birch, and pine trees. While Sprout recognizes that trees can be difficult to grow from seed, they state that with "light, water, love and a lot of patience it should be possible." The pencils containing tree seeds also have wildflower seeds included so that planters will see something beautiful grow while waiting for the trees to germinate.
Sprout recommends that tree seeds be planted in the fall so that they germinate by springtime. Also, 10 percent of the proceeds of these pencils goes to Forests of the World, a Danish organization dedicated to sustainable logging and tourism. 
As far as the regular Sprout pencils, Sprout recommends that they be planted at an angle so that soil barely covers the capsule. They should be watered on a regular basis, and kept damp, but not overwatered. Plants should be repotted once they get too large for their original container, and seeds from the new plants can be used to plant the next generation!
Inventions such as this remind us that if we work together and rethink our most basic products, we really can make them greener. In some cases, like the plantable pencil, we can even give back to Mother Nature — a worthy mission, indeed.
—Tanya Rakhmilevich
Tanya is a writer at The Alternative Daily with a passion for meditation, music, poetry, and overall creative and active living. She has a special interest in exploring traditional Eastern remedies and superfoods from around the globe, and enjoys spending time immersed in nature.
Sources:
http://www.treehugger.com/lawn-garden/plantable-pencils-sprout-flowers-vegetables-and-trees.html
http://sproutworld.com/products/sprout-pencil
http://video.mit.edu/watch/sprout-a-pencil-with-a-seed-12336