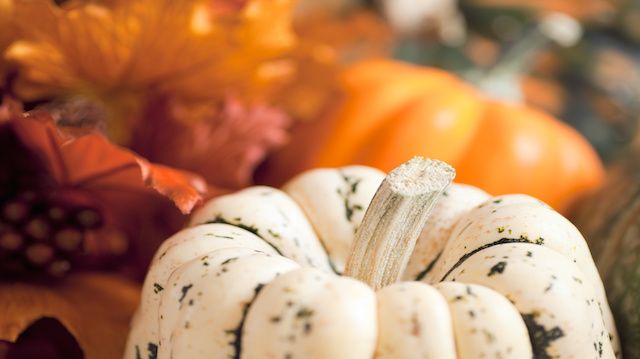 It's that time of year when squash and other traditional harvest foods start making their way back into our menus! Fall is a great time to embrace healthy eating habits if you're not already doing so. This season is filled with fiber-rich, whole foods that have phenomenal health benefits.
One of the best parts about fall harvest foods is their high amounts of antioxidants. Winter squash is one of these foods, and it's one of the easiest to use as a canvas for other healthy ingredients. 
All winter squash varieties are a great alternative to white potatoes or bread to up your nutrient intake and get more fiber, iron, antioxidants, and vitamins into your diet. Squash is also very filling, which can help curb your cravings for unhealthy snacks.
Types of winter squash:
Acorn

Buttercup

Butternut

Delicata

Kabocha

Pumpkin (technically a squash)

Sweet dumpling

Turban
You can use all of these squash varieties just like you would a potato in terms of building a meal. One of the best ways to cook them is to roast them in halves and stuff them with your favorite healthy fixings.
Try the five delicious stuffing ideas below instead of the refined stuffing mix you buy at the store. All you need to do is cut a roasted squash in half, remove the seeds, and you're ready to stuff! 
Wild rice 
Wild rice is a grass-like grain which grows in marshes. It is not the same as regular grain rice, which grows in fields. Wild rice is deliciously nutty, packed with antioxidants and fiber, and has a slightly sweet taste with a fluffy texture. It's also a great source of amino acids, fiber, B vitamins, and magnesium.
Cook wild rice like you would regular rice, and season with a little celery and onion during the cooking process if you like. It's perfect served in an acorn, buttercup, butternut, kabocha, spaghetti, pumpkin, or turban squash half.
Chestnuts 
Chestnuts are actually not nuts, but come from the legume family. They're a great source of complex carbs, packed with fiber, and also rich in calcium. You can use them raw inside a squash, or you can roast them if you enjoy them with a smokier, nuttier flavor.
Either way, use about a cup per squash half, and be prepared to feel energized, satisfied and blissful for hours! Sprinkle with cinnamon if you'd like a healthy, sweet topping to the final dish. Chestnuts make a great stuffing for any type of squash, so choose whichever one you like.
Skillet-cooked onions and garlic
For a savory and spicier option, go with simple skillet-cooked onions and garlic. Slice a quarter of a yellow onion into thin strips, along with one clove of garlic. Heat a skillet and add a little coconut oil or homemade vegetable broth, bringing the heat to medium high. Add the garlic and onion, and cook until both become a bit caramelized. This gives them a great flavor.
Stuff your squash halves with this mixture, sprinkle with some pepper and parsley, and serve as a tasty dinner side dish. The best squashes for this recipe idea include acorn, delicata, butternut, kabocha, pumpkin, spaghetti, and turban squash. As a bonus, squash, onions, and garlic are also all great anticancer foods!
Quinoa and cranberries
If you're feeling super-festive, quinoa and cranberries make both a colorful and filling stuffing. Cook quinoa as normal, add some unsweetened dried cranberries, and use the mixture to stuff either an acorn, buttercup, delicata, kabocha, spaghetti, or turban squash.
Since quinoa is also high in protein and iron, this is a great meal idea to eat in place of meat. Just add a few veggies on the side, such as asparagus and kale salad, to complete the meal.
Cooked kale with almonds 
For a simple yet power-packed stuffing, try cooked kale with almonds. You can braise the kale, or cook it any other way you like — try using some veggie broth and steam it in a skillet for another great option. Top it with sliced or slivered almonds and serve as a healthy side dish.
Black pepper and cumin both make tasty seasoning ideas for this stuffing. Kale and almond stuffing goes best in acorn, butternut, delicata, spaghetti, and turban squash. 
Why winter squash is a great seasonal ingredient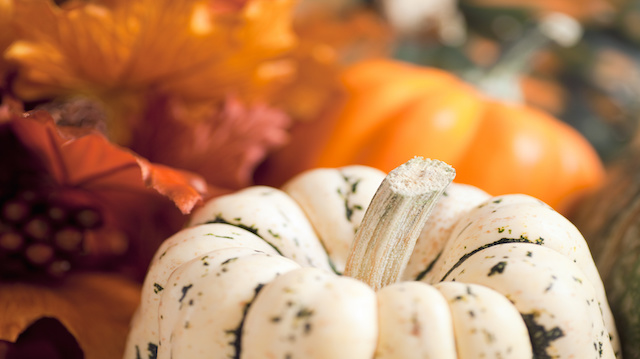 Winter squash is linked to disease prevention, a healthy digestive system, and weight maintenance. It's a great source of both vitamins A and C for the skin and immune system, and it's a great source of vitamin B6, which promotes a healthy mood and metabolism. Finally, it's a great source of potassium, which helps lower blood pressure, reduces bloating, and improves heart health.
You may also find specialty types of winter squash that are unique to the area you're from, so keep an eye out for some "gems in the rough," and enjoy trying new ones from time to time. 
The basic way to cook any type of winter squash is to simply roast it in the oven in two halves on a pan coated in foil. Face the halves down so the shell is on top. Roast for 45 minutes at 400 degrees Fahrenheit. You can store these all week in the fridge, just like you can sweet potatoes.
Do you eat winter squash, and do you use it as a canvas for healthy stuffings? If so, please tell us your favorite recipe idea!
—The Alternative Daily 
Sources:
http://www.aicr.org/press/health­features/health­talk/2015/01­january/Nutritional­value­s quash­sweet­potatoes.html http://www.whfoods.com/genpage.php?tname=foodspice&dbid=63 http://www.medicalnewstoday.com/articles/284479.php