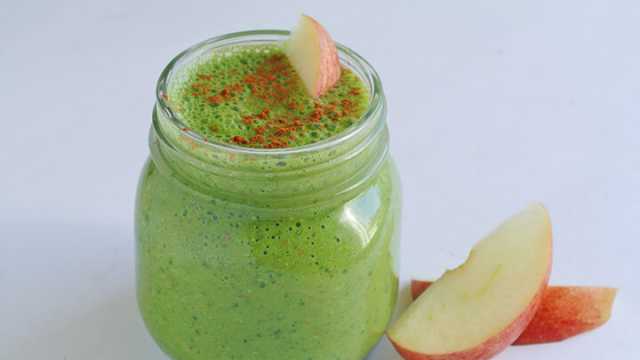 Now in October, the mornings and evenings are becoming much cooler as the crisp autumn air rolls in. Being a girl who spends a lot of time outdoors, fall is by far my favorite season. Not only because of the colorful foliage, but because this breathtaking season brings a whole new variety of activities, including a family favorite — apple picking.
As a kid, we lived around at least a dozen apple orchards — each offering their own unique character. One would have a giant corn stalk maze, while the other would offer hay rides with their big, fluffy Newfoundland dog. Coming home, I would always have a gut ache from eating far too many apples and drinking one too many cups of freshly pressed hot cider.
Here in Ontario, Canada, apple picking season has kicked off. To get us into the spirit of this well-loved fall activity, why not get a little creative? Whether you want to switch up your smoothie routine or you're looking for ideas to use up a big bag of freshly picked apples, this recipe covers all the bases.
Related: 3 Autumn Herbs And Seasonal Teas
Apple benefits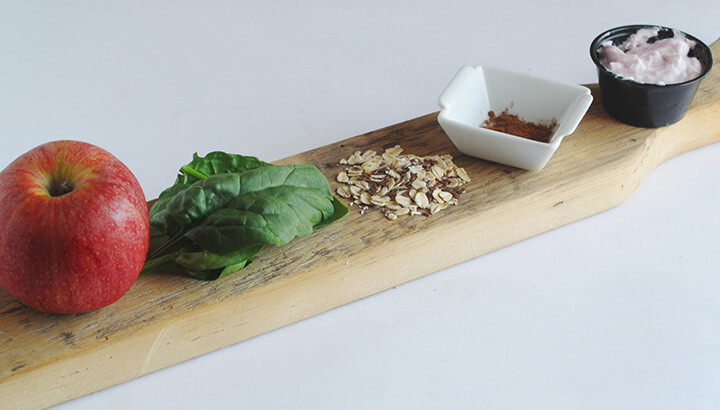 There's something mesmerizing about an apple orchard. As you walk along row by row, you're surrounded by beautiful ready-to-pick apples. Being the second most popular fruit in America behind bananas, you can feel good about chomping on this sweet, yet tart treat. After all, you know what they say, "an apple a day keeps the doctor away."
Since the large majority of health-boosting benefits are found in the peel, it's important to source organic varieties. This will help you reduce your exposure to pesticides and other harmful chemicals. Within the peel of an apple you will benefit from a number of antioxidants, helping you combat chronic illness.
Studies have linked apples to a reduced risk of cancer, cardiovascular disease and diabetes. There's also an inverse link between this well-loved fruit and asthma. More specifically, the antioxidant content of apples inhibits the growth of both colon and liver cancer cells. In terms of cardiovascular support, apples can lower cholesterol based on dietary fiber and beneficial phytochemicals.
Fall not only brings fresh apples, but also beets, broccoli, cabbage, figs, pears, garlic and more fresh produce you simply cannot resist. Although there are no rules when it comes to smoothies, you should be aware of the ingredients you include, focusing on the glycemic index (GI). The lower a food's GI, the more slowly it will be digested, reducing a spike in your blood sugar levels.
Of course, apples are extremely healthy in many ways. But, if you only eat apples, you'll cheat yourself out of other unique nutrients and increase your intake of fructose. This leads me to a fall-inspired ingredient that will directly benefit your fasting blood glucose — cinnamon.
Whether you sprinkle cinnamon on top of your smoothie or mix it in, there's no doubt that this spice resonates with fall — and apples for that matter. Within one study published in Diabetes Care, it was found that cinnamon significantly reduced glucose, LDL ("bad") cholesterol and triglyceride levels among those with type 2 diabetes.
With the addition of spinach, flax seeds, oats and more, this smoothie will surely set you up for the day ahead, all while reminding you of this beautiful season which blesses us just once a year.
Make your own 'apple picking' smoothie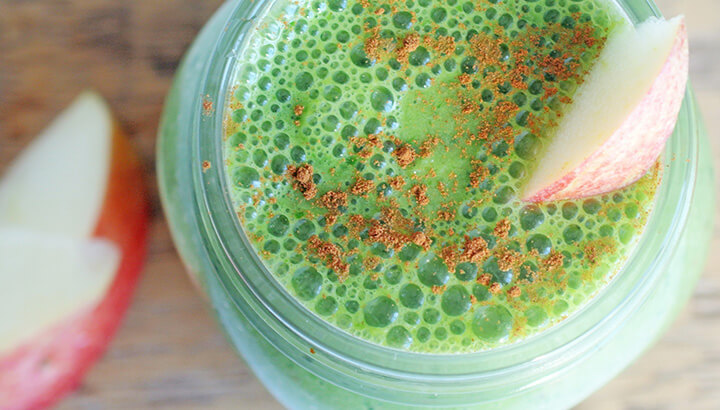 When you have a bag or two of apples laying around after a weekend of orchard exploration, you'll be looking for ways to incorporate these red and green delights into your diet. For this recipe, I focused on ingredients that remind me of fall, while packing in a range of health-boosting properties.
Ingredients
3 cups raw spinach

1 large apple, cored and sliced

1/2 cup organic Greek yogurt

1/4 cup cooked oats

1/2 cup almond milk

1 tbsp flax seeds

1/4 tsp raw honey

1/8 tsp cinnamon
Equipment
Instructions
1. Place all ingredients in a blender and away you go. Blitz until well combined. Sprinkle cinnamon on top for an extra oomph of autumn-inspired flavor.
2. Feel free to play around with ingredients based on your personal preference. Some other lovely spices to include are clove and allspice. If you have "pumpkin spice" handy, this will also cover all the flavors and aromas which remind you of that post-Thanksgiving dinner pie we all love.
— Krista Hillis