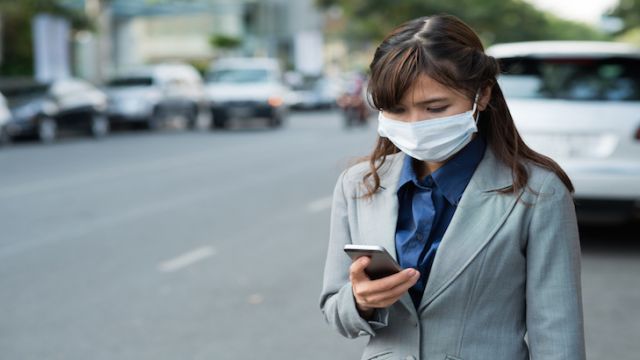 The World Health Organization (WHO) has released a new report detailing air pollution across the globe, and the news isn't good. According to the report, over 80 percent of cities with a population of at least 100,000 do not meet the WHO's standard for healthy air quality. In low- and middle-income countries, 98 percent of cities fall short of the WHO's air quality standards. High-income countries are able to meet such standards, but only 44 percent of the time. In the last five years, global air pollution has risen by eight percent.
Much of the concern regarding air pollution is the increase in particulate matter in urban areas. According to the US Environmental Protection Agency, "Particulate matter… is a complex mixture of extremely small particles and liquid droplets. Particle pollution is made up of a number of components, including acids (such as nitrates and sulfates), organic chemicals, metals, and soil or dust particles."
These particles can be small enough to slip by our natural defense mechanisms (i.e. nose hair), get into our lungs and possibly even our blood. Generally particulate matter gets grouped into one of two categories:
PM10 is particulate matter between 2.5 and 10 micrometers in diameter, small enough to get into our lungs but not into our blood.

PM2.5 is particulate matter that is smaller than 2.5 micrometers in diameter and is able to penetrate our bloodstream.
Chronic exposure to particulate matter increases the likelihood of premature death (i.e. dying before life expectancy) by three percent, and raises the chances of stroke or heart attack by 10 percent.
Once in our bloodstream, particulate matter can lead to genetic mutations, cancer, and increased risk of heart attack and stroke by a narrowing of our arteries. Make no mistake about it, particulate matter in our air is a killer, and the number of premature deaths per year linked to it is alarming researchers and policy makers all across the globe.
Air pollution and premature death
Globally, air pollution contributes to at least 5.5 million deaths a year, with more than two-thirds of such deaths occurring in China and India. Much of the air pollution in those countries stems from either residential heating practices or agricultural practices.
The United States is far from immune from the health impacts of air pollution. A study from MIT in 2013 concluded that 200,000 premature deaths per year in the United States occur as a result of air pollution. More than 10 percent of such deaths occurred in California, where air quality is considerably worse.
Risky places to breathe in the United States
The American Lung Association (ALA) releases data every year on which cities have the best and worst air quality, and it should come as no surprise that cities in California have a monopoly in the "worst air quality" bracket. The bottom seven metropolitan areas in the country in terms of particulate matter all come from California:
Fresno-Madera, CA

Bakersfield, CA

Visalia-Porterville-Hanford, CA

Modesto-Merced, CA

Los Angeles-Long Beach, CA

El Centro, CA

San Jose-San Francisco-Oakland, CA
Outside of California, there are a lot of northeastern cities that also have poor air quality:
Cincinnati-Wilmington-Maysville, OH-KY-IN

Pittsburgh-New Castle-Weirton, PA-OH-WV

Cleveland-Akron-Canton, OH

Philadelphia-Reading-Camden, PA-NJ-DE-MD

Harrisburg-York-Lebanon, PA

Johnstown-Somerset, PA

New York-Newark, NY-NJ
The ALA also lists the cities with the cleanest air every year. The air in these US cities has the least particulate matter:
Prescott, AZ

Farmington, NM

Cheyenne, WY

Casper, WY

Flagstaff, AZ

Duluth, MN-WI

Salinas, CA

Palm Bay-Melbourne-Titusville, FL

Kahului-Wailuku-Lahaina, HI

Rapid City-Spearfish, SD
Risky places to breathe globally
The WHO's report also shed light on the worst cities globally for particulate matter in the air, and certain trends are hard to ignore. Nigeria has three cities in the top six in terms of air pollution, and estimates are that 94 percent of the population is exposed to higher levels of air pollution than the WHO deems safe.
China, the former global leader in air pollution, has made strides since 2011 and now only has one city in the top 20.  
Pakistan and India might consider using reductions in air pollution as another way to compete with one another, as each country has three cities that appear in the top 20.  
Saudi Arabia, Afghanistan, and Bahrain all have multiple cities listed in the top 20, as well.
What can be done?
To curb air pollution, governments need to make policy choices that benefit the health of the people they represent. Investing in public transit and urban infrastructure that encourages walking, biking, or other emission-free methods of transport can curb vehicle emissions dramatically.
Requiring that new homes are built with energy-efficient heating systems, as well as retrofitting older homes with new, more efficient heating systems, can also go a long way to reducing the amount of particulate matter in the air.
Providing financial incentives for food producers to reduce the amount of airborne particles that farms produce would also result in significant improvements in air quality.
For any of the above actions to be taken, however, there has to be demand from the public. If you want stricter regulations on airborne particulate matter, the first step is letting your elected representatives know that this issue is one that will impact how you vote come Election Day.
—Ian Carey