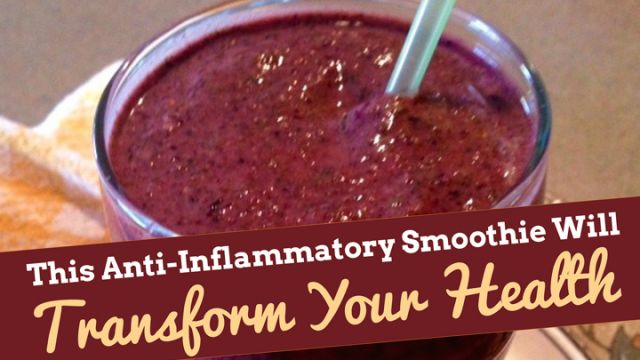 Inflammation begins in your gut, so it only makes sense to nourish your body with whole foods that contain anti-inflammatory properties. This smoothie tastes delicious and is loaded with some of the best functional foods that fight inflammation. If you suffer from conditions such as obesity, peripheral neuropathy, diabetes, celiac disease, heart disease, stroke, migraines, psoriasis, thyroid issues, dental issues or cancer then this smoothie recipe is for you.
Chronic inflammation
Inflammation is a normal part of your immune system's reaction to stimuli such as damaged cells, infections, injuries and irritants. But when inflammation becomes chronic it can do significant damage to your body. In fact, inflammation is generally the root cause of many diseases. Eating foods like blueberries, walnuts and turmeric can lower your overall inflammation and reduce your risk of developing harmful diseases.
While inflammation plays a key role in heart disease and several other illnesses, what drives inflammation is still a mystery suggests Medical News Today. And here lies the problem. With inflammation, doctors often prescribe anti-inflammatory medications like non-steroidal anti-inflammatory drugs (NSAIDs).
Consequences of using NSAIDs for inflammation
No one should ever use NSAIDs long-term. Long-term use places you at risk for stomach ulcers and severe hemorrhaging. NSAIDs may also worsen asthma and cause heart disease and kidney damage. Last year the U.S. Food and Drug Administration (FDA) strengthened an existing warning on prescription drug labels and over-the-counter drug fact labels. NSAIDs can increase the chance of a heart attack or stroke, both of which can lead to death, says the FDA. And worse, those serious side effects can occur as early as the first few weeks of using an NSAID.
Where smoothies come in
To reduce your overall amount of chronic inflammation, instead of NSAIDs, try to avoid foods that cause inflammation in the first place. The Arthritis Foundation suggests removing or at least limiting the following foods from your diet to help fight inflammation: sugar, unhealthy saturated fats like those found in fast-food, processed foods trans fats, omega-6 fatty acids, refined carbs, monosodium glutamate (MSG), gluten, casein, aspartame and alcohol.
Instead, increase foods that reduce inflammation. You can do this by indulging in smoothies loaded with anti-inflammatory foods. The following recipe incorporates some of the best anti-inflammatory foods around such as berries, turmeric, spinach and pineapple. In fact, every ingredient in this recipe is key for fighting inflammation.
Let's face it, smoothies require very little effort, which is why they're so popular for breakfast, lunch or snacks. Just avoid coffee shop and fast-food smoothies that may do more harm than good. Make your own with fresh whole ingredients. Remember: inflammation starts in the gut, and by choosing the right foods you can stop it before it stops you!
Healthy, Anti-Inflammatory Smoothie
I prefer using high quality, frozen, organic fruits and veggies for my smoothies. First, because it naturally thickens the smoothie; second, because they're so darn convenient when I'm rushed for time.
Serves: 1
Prep time: 10 minutes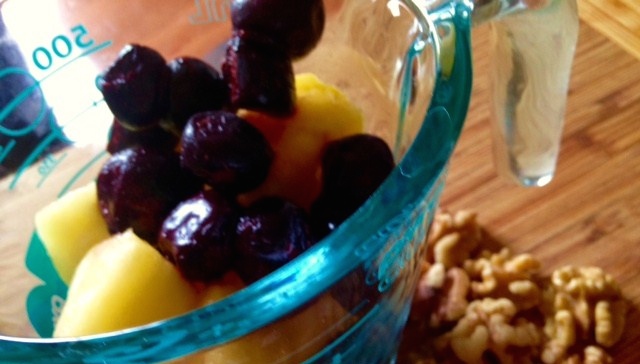 Ingredients
1/2 cup fresh or frozen organic blueberries

1/2 cup fresh or frozen organic cherries, pits removed

1/2 cup fresh or frozen organic pineapple

1/2 cup fresh or frozen organic spinach

10 walnuts halves

1 cup coconut milk, unsweetened

1/2 tsp ground turmeric

1/4 tsp pepper (to help with turmeric absorption)
Ingredients
Instructions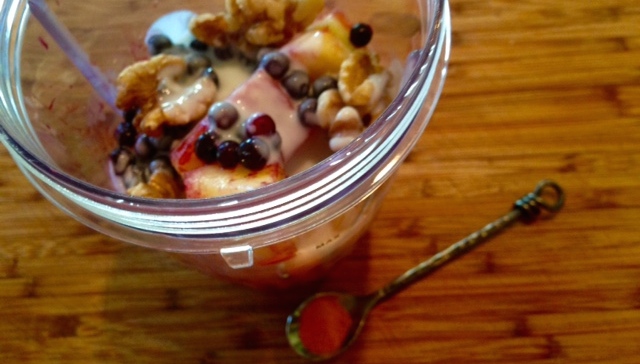 1. Add blueberries, cherries, pineapple, spinach, walnuts halves and coconut milk into a high-speed blender.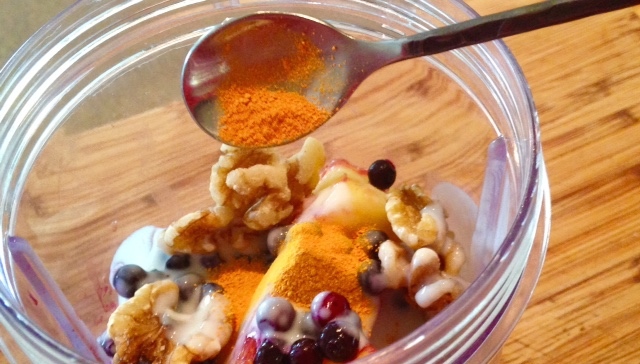 2. Add the turmeric and pepper and blend on high speed until smooth.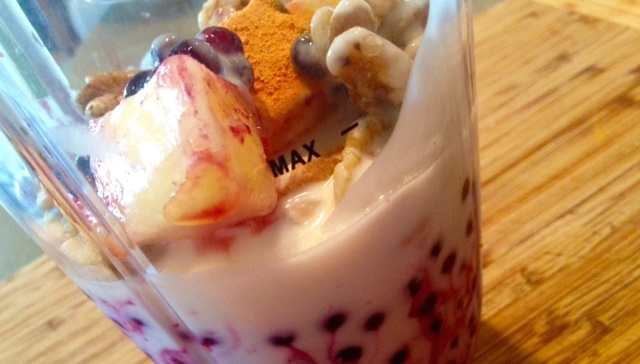 3. Pour into a tall glass and enjoy!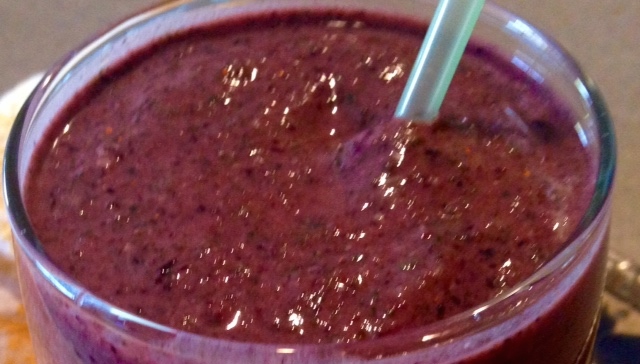 — Katherine Marko